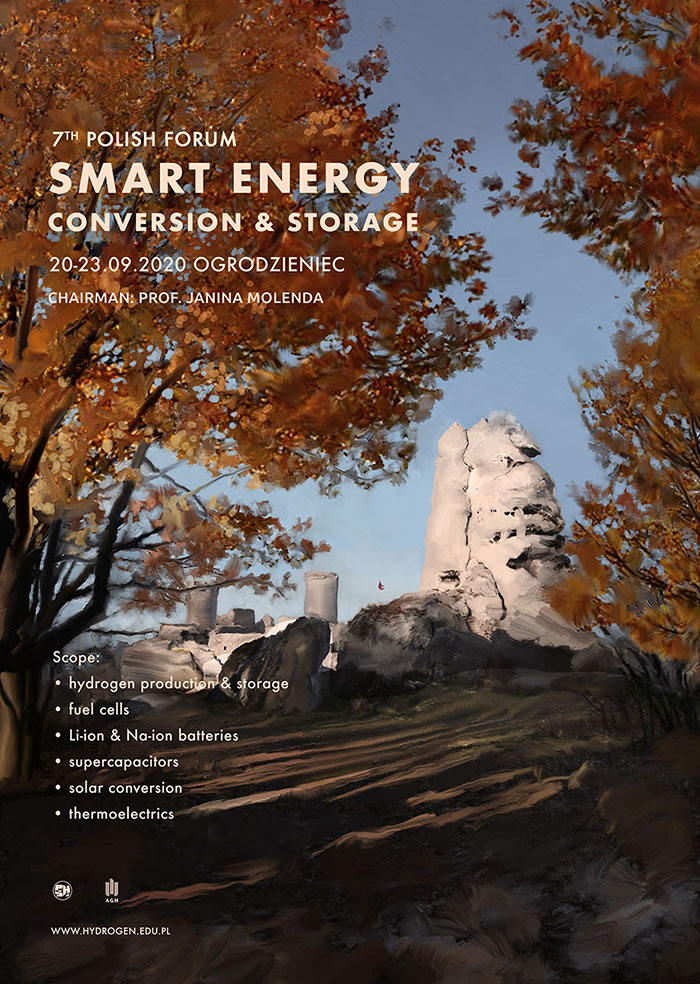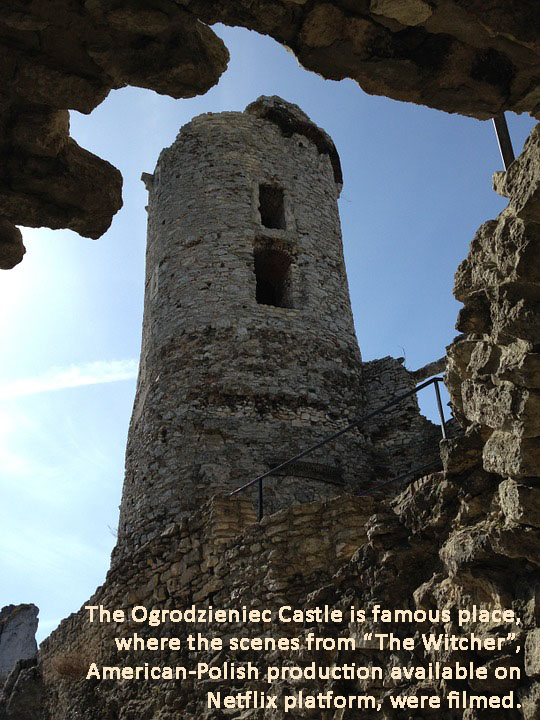 Updates
---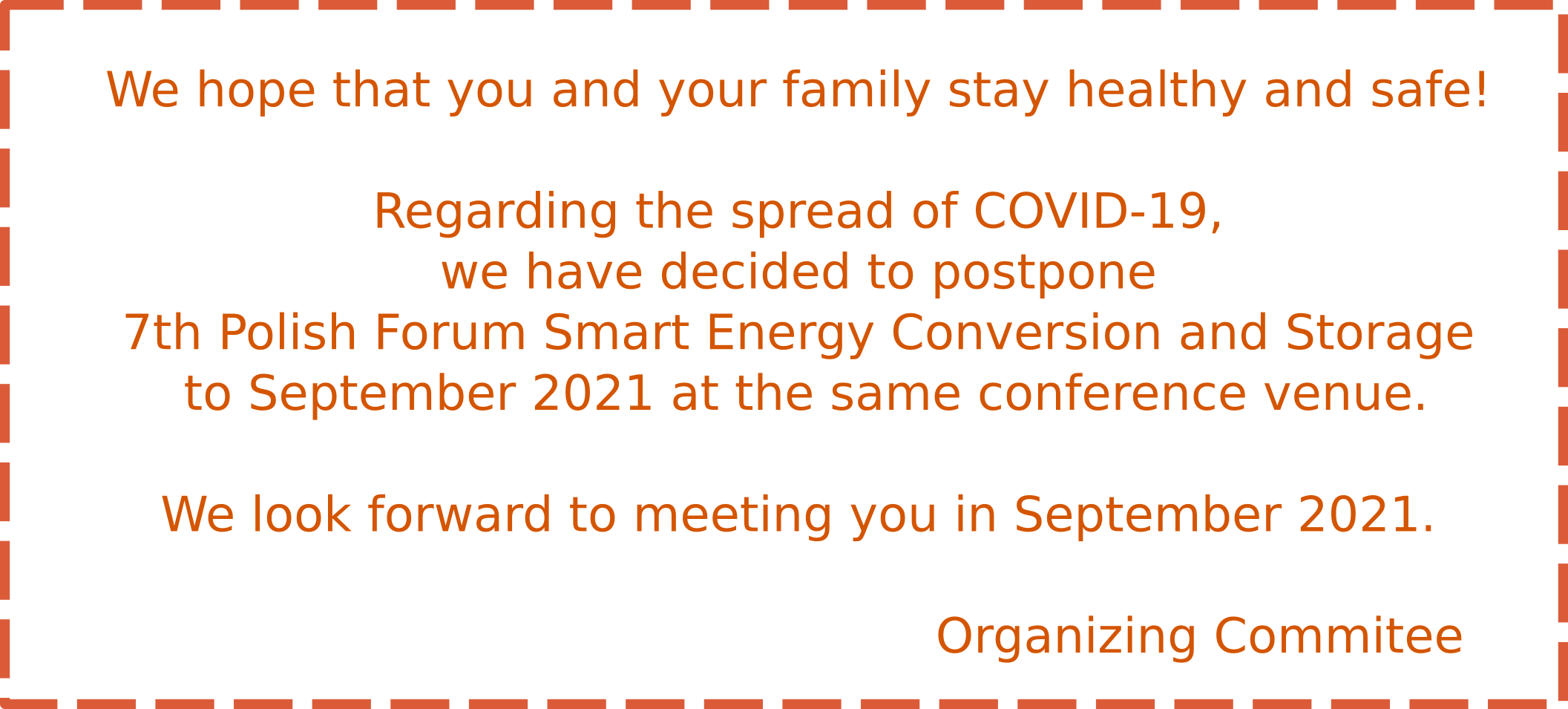 The
Deadline
section has been updated.
To register and submit your abstract, please, see the
Deadline
section.
Organizing committee
Chairman: Janina Molenda
Scientific committee
Andrzej Czerwiński
Henryk Figiel
Elżbieta Frąckowiak
Piotr Jasiński
Franciszek Krok
Paweł Kulesza
Anna Lisowska-Oleksiak
Janusz Toboła
Władysław Wieczorek
Organizing committee
Danuta Olszewska

Anna Milewska
Anna Plewa
Katarzyna Walczak
Katarzyna Redel
---
Forum program
The program can be found here.
Forum scope includes:
Hydrogen/oxygen production & storage
Fuel cells
Li-ion and Na-ion batteries
Supercapacitors
Solar conversion
Thermoelectrics
Invited speakers
So far the following, world leading scientists confirmed their attendance:
Michel Armand (CIC Energigune, Energy Cooperative Research Centre, Álava, Spain)
History of Li-ion batteries
Xu Chaohe (Chongqing University, Chongqing, China)
Recent trends in lithium all-solid-state batteries
Marek Danielewski (AGH University of Science and Technology, Cracow, Poland)
Striking developments in energy conversion; Common roots of gravity and quantum mechanics
Elżbieta Frąckowiak (Poznań University of Technology, Poznań, Poland)
John Irvine (University of St Andrews, St Andrews, UK)
Piotr Jasiński (Gdańsk University of Technology, Gdańsk, Poland)
Co-electrolysis supported production of methane
Philippe Knauth (Aix Marseille Université, France)
Paweł Kulesza (University of Warsaw, Warsaw, Poland)
Structure and activity of selective interfaces for electrocatalytic and photoelectrochemical reduction of carbon dioxide
Li Lu, (National University of Singapore, Singapore)
All-Solid-State electrolytes for next generation of rechargeable sodium batteries
Janina Molenda (AGH University of Science and Technology, Cracow, Poland)
Mogens Mogensen (Technical University of Denmark, Lyngby, Denmark)
New combinations in materials for Reversible Solid Oxide Cells
Teruki Motohashi (Kanagawa University, Kanagawa, Japan)
Complex transition-metal oxides for oxygen-related applications
Wojciech Nowak (Centre of Energy, AGH University of Science and Technology, Cracow, Poland)
Józef Spałek (Jagiellonian University, Cracow, Poland)
Tomasz Story (Institute of Physics of the Polish Academy of Sciences, Warsaw Poland)
Thermoelectricity and topology in semiconductors
Andrzej Suchocki (Institute of Physics Polish Academy of Sciences, Warsaw, Poland)
Quantum cutting processes in down-converting phosphors for silicon-based solar cells
Konrad Świerczek (AGH University of Science and Technology, Cracow, Poland)
Janusz Toboła (AGH University of Science and Technology, Cracow, Poland)
Electronic structure calculations of materials converting energy: thermoelectrics and ion batteries
Anita Trenczek-Zając (AGH University of Science and Technology, Cracow, Poland)
Semiconductor heterostructures for photoelectrochemical cells
Constantinos Vayenas (University of Patras, Greece)
Mass and Energy generation via gravitational confinement of relativistic neutrinos
Władysław Wieczorek (Warsaw University of Technology, Warsaw, Poland)
Krzysztof Wojciechowski (AGH University of Science and Technology, Cracow, Poland)
A new DT-FGTM approach in thermoelectric energy conversion
Ehrenfried Zschech (Fraunhofer Institute for Ceramic Technologies and Systems IKTS, Dresden, Germany)
Nano XCT studies of the 3D morphology of materials for energy storage and conversion

---

Conference fees


Fees include taxes
Please, note, that due to Covid-19 outbreaak, the payment date will be extended.


Options
Total conference fee (PLN)
early bird*
normal payment*
Regular participants
bed in single room**

2500

2800
Regular participants bed in double room

2100

2400
PhD students/students***

1400


1600
1-day participance
(1 hotel night in nearby hotel)

1800




*The date of payment will be announced later.
**The hotel is exclusively reserved for conference guests. Considering the limited number of rooms, the single rooms are reserved for Invited Speakers.
***Depending on availability of the rooms, the accomodation may be changed for nearby hotels. As authorisation for your booked fee reduction a proof of status is required. A copy of the student identity card is sufficient for students.

Total conferemce fee covers hotel fee, conference fee, 3 breakfast, 3 lunches, coffee breaks, conference materials, welcome party, conference dinner, barbecue, payable via bank transfer.

Accompanying persons total fee  
- Before June 5th, 2020 - 2000 PLN
- After June 5th, 2020 - 2100 PLN

Accompanying persons total fee covers full costs of accommodation room with 3 breakfasts and 3 lunches, all organization expanses, welcome party, conference dinner and barbecue.

Payment must be made in PLN. Note! Bank charges are to be covered by the payer.



Bank information for Conference Fee:


Account holder: Polskie Stowarzyszenie Wodoru i Ogniw Paliwowych
ul. Bobrecka 29, 43-400 Cieszyn 
Bank Pekao Oddział w Krakowie
Account number: 27 1240 4559 1111 0000 5419 6311
with postscript "SmartEnergy2020"



Deadlines




---

Abstract template:

To download the abstract template, please click here


Abstract submission:

To register and submit an abstract, please fill the form below.

Please note, that one registered person can present one poster.

The posters should be in B1 format, 70.7 x 100 x cm.

Deadline for abstracts submission and registration is May 25th 2020
Acceptance of oral presentations and posters is after the May 25th 2020.




---

---

Contact

For questions regarding conference, please contact:
e-mail address: hydrogen.agh1@gmail.com
phone number: +48 12 617 20 80

---

Accommodation

Accommodation: Poziom 511**** Design Hotel and SPA

POZIOM 511 Design Hotel & SPA is a modern, 4-star object located at the heart of Kraków-Częstochowa Jurassic Upland in the Eagle's Nest Landscape Park Located on top of the highest hill of the Upland, surrounded by greenery and limestone rocks, 300 meters away from the impressive ruins of Ogrodzieniec Castle it attracts not only those, who wish to actively spend their time, but also those who search for peace, harmony and new experiences.

Hotel website - English version












Conference venue

Ogrodzieniec Castle is a ruined medieval castle in the semi-mountainous highland region called the Polish Jura in south-central Poland. Rebuilt several times in its history, the castle was originally built in the 14th–15th century by the Włodkowie Sulimczycy family. The castle is situated on the 515.5-metre-high Castle Mountain (Polish: Góra Zamkowa), the highest hill of the Kraków-Częstochowa Upland. Located on the Trail of the Eagles' Nests, the ruins are open to visitors.

The Ogrodzieniec Castle is famous place, where the scenes from "The Witcher", American-Polish production available on Netflix platform, were filmed.













Settlement ​​on Birów top is reconstructed colony on a hilltop, near the Ogrodzieniec Castle (about 10 min by walk).
Website of the Castle - English version